Easy Seat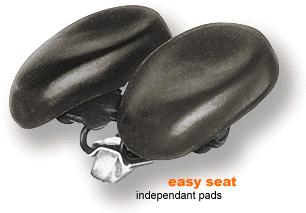 Also see our Easy Seat Deluxe
The Easy Seat is the original dual padded seat that is doctor recommended to relieve pressure. The dual pads move independently to give you a comfortable, pain-free ride.
Dimensions: See the Easy Seat & Easy Seat Deluxe product pages for actual dimensions
Construction: Firm, high density foam.
Horse Shoe Seat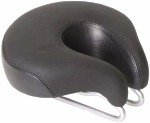 The Horse Shoe Seat is a touring seat designed for maximum comfort with high density foam padding. The center cut-out provides pressure relief to the groin area making it comfortable for men and women.
Dimensions: approx. 7" long x 7 3/4" wide
Construction: High density foam with leather cover
Contour Seat
16" Wide

Was $99.95
Our Price $84.95
The Bench Seat has been modeled after a farm tractor seat to provide all day comfort. Made with the mature rider in mind and for those that like to take leisurely rides, this contoured seat distributes your weight evenly with no pressure points allowing you to just enjoy your ride.
Dimensions: 12" long x 16" wide
Hornless Seat
9" Wide

The Hornless Seat is a wonderful alternative to the Easy Seat if you are not comfortable with the movement of the dual pads. The hornless style is endorsed by doctors for men to provide prostate pressure relief.
Dimensions: 6" long x 9" wide
Construction: Gel with lycra cover
Extra Deep Relief Zone

12 1/2" long x 11 1/2" wide
Was $49.95
Our Price $39.95
Looking for relief but still want a more traditional styled bike saddle? The Extra Deep Relief Zone Seat provides just that with the specialized extra deep and vented relief zone for prostate and tailbone relief and the control of a horn.
Dimensions: 12 1/2" long x 11" wide
Construction: GelFoam with tri-colored vinyl cover