Easy Seat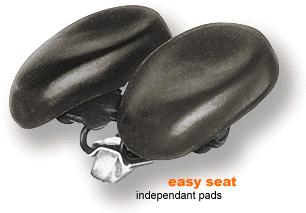 Imported
Easy Seat dual pad bicycle seat
Original Easy Seat dual pad seat. Doctor recommended Pressure Relief Seat.
EasySeat Bicycle Seat

(Change quantity on next page)
Guaranteed comfort or your money back!
Doctor recommended pressure relief design.
Enjoy riding your bike again with NO MORE PAIN!
(or upgrade to the Easy Seat Deluxe bike seat with up to 350 lb capacity)
Adjustable width to fit your personal anatomy! Adjusts from 8-3/4" wide up to 10-1/4" wide!

The Easy Seat has always been more comfortable than any other seat. But the new edition is even more stable.

The individual pads flex with each movement. Pads 4-1/4" x 7"

Improved contour for better support, and a unique padding configuration to eliminate rubbing.

The body is supported where needed most.

This unique design eliminates the center horn completely which is the cause of discomfort in many conventional saddles.

The two individual cups support and protect the pressure points of the body alleviating chaffing, pain and numbness.

Manufacturer guarantees use for larger framed people. This seat uses a steel bar for support!
The Easy Seat is a uniquely designed firm seat. It may take time to adjust to the firm dual flexing pads. Try it for a couple of weeks and see.
Note:
Our universal design allows this seat to be mounted to most any bike. Mounting instructions are included. Mounting may require a 7/8" round seat post clamp. Mounting Instructions
Let us know if you need a 7/8" post clamp with this seat!
See the Easy Seat Deluxe bike seat. More Info